Best Time to Dive, Locations, and What to Bring For Diving in Indonesia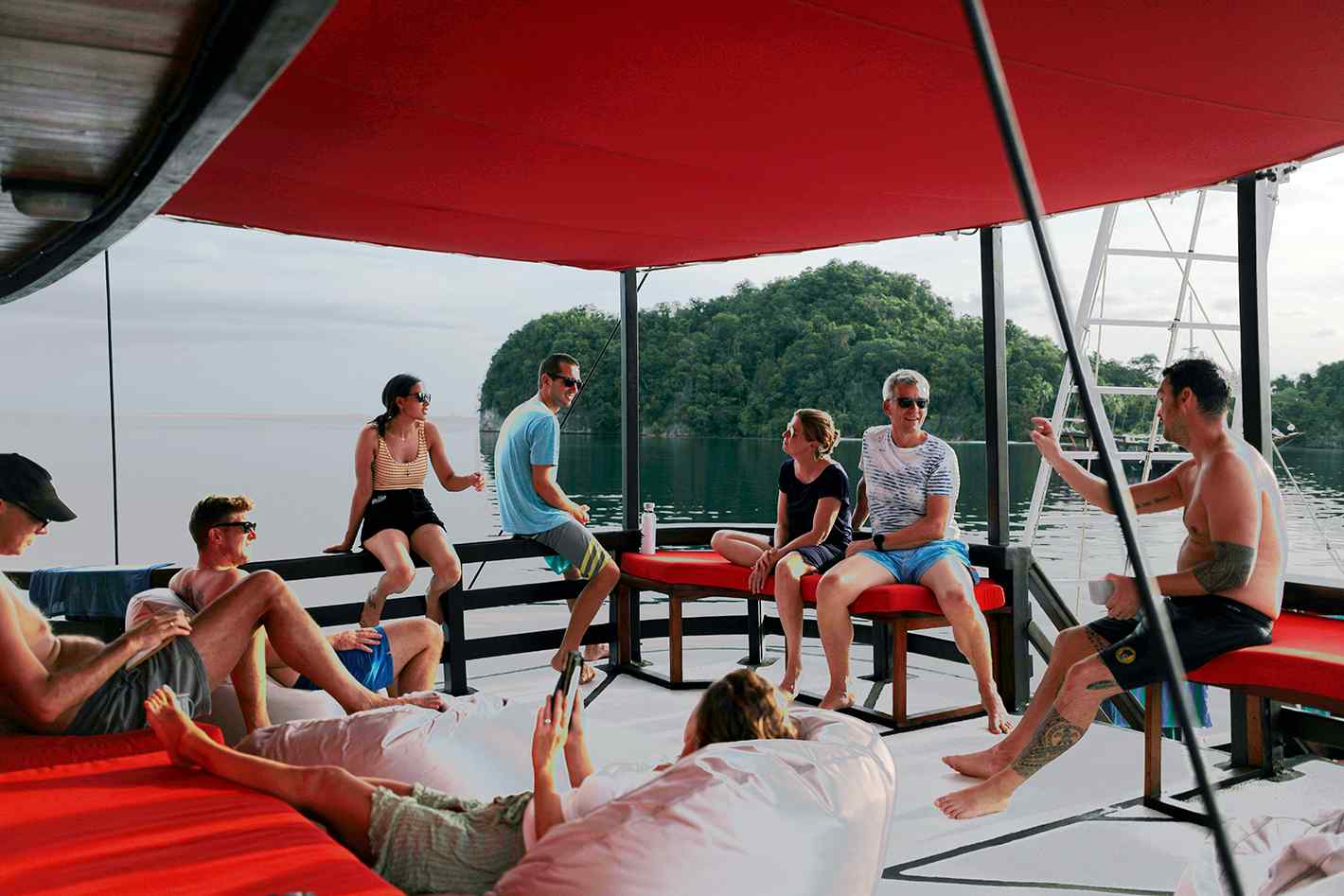 With a liveaboard, you can dive in Indonesia in a totally new way. The fundamentals of taking part in a liveaboard dive trip will be covered in this article, along with some of the best liveaboard experiences in Indonesia for all budgets. Also you need to know Best Time to Dive, Locations, and What to Bring For Diving in Indonesia
The best diving in Indonesia is at Raja Ampat & Komodo Scuba Liveaboard Padar Island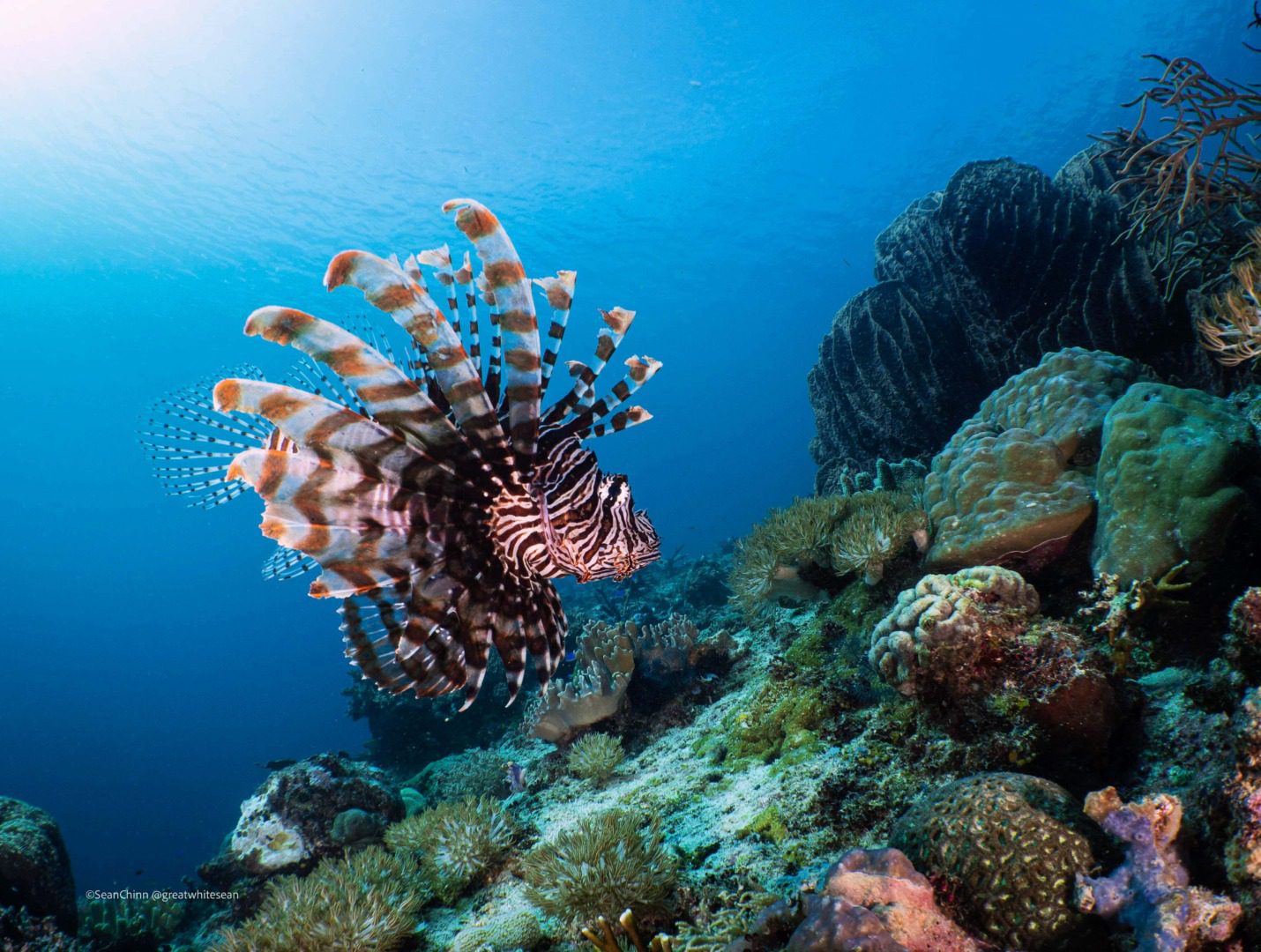 One of the most popular travel destinations worldwide is probably Indonesia. Every kind of traveler can find something special about it. There are historic temples to discover, active volcanoes to hike, hidden communities to explore, breathtaking beaches to surf, and of course, diving in Indonesia is a well-liked attraction as well.
One of the most rewarding experiences can be a diving trip to Indonesia. It's no surprise that Indonesia is on every scuba diver's bucket list because it is home to more than 4,000 different fish and invertebrate species, as well as 15% of the world's coral reefs.
With a liveaboard, you can dive in Indonesia in a totally new way. Avoid the disruption of typical tourism and travel to remote areas where there is an abundance and diversity of marine life.
In this article, we'll go over the fundamentals of taking part in a liveaboard dive trip and make recommendations for some of the best Liveaboard adventures in Indonesia that fit every budget.
The Best Seasons for Scuba Diving in Indonesia
Depending entirely on where you plan to dive, the best time to dive in Indonesia for an amazing diving experience.
The top diving spots in Indonesia, along with the best time to dive there, are listed below:
Komodo: All year round
Raja Ampat: September to May
Triton Bay: May to September
Banda Sea: March, April, September to December
Best Diving Locations in Indonesia
Indonesia, a country made up of over 17,000 islands located between the Indian and Pacific oceans, features more than one of the world's top diving locations. For the sake of this study, we will concentrate on the two most popular liveaboard diving locations in Indonesia.
The Komodo Island National Marine Park, located in Indonesia's Nusa Tenggara area, is one of the most popular scuba diving locations in the country (and perhaps the world!).
Rich plankton harvests in shallow water channels attract manta rays, whale sharks, and other feeding pelagics. Colorful filter feeders such as sea squirts, sea apples, crinoids, and tunicates inhabit the massive coral walls. Several protected bays also have macro life, such as pygmy seahorses and frogfish.
Komodo Liveaboard excursions typically include land visits to see the famed Komodo dragons. The cruises last between 7 and 11 nights on average. However, budget-friendly Liveaboards provide shorter stays.
From July to September, the climate in Komodo is sunny and dry. Evenings can be cool. Expect calmer winds in May and October, but with a higher risk of rain.
Most serious divers' bucket lists include scuba diving in Raja Ampat, and for good reason. This Indonesian island paradise has some of the most diverse diving in the world. With reasonable water temperatures and generally adequate visibility, you've got yourself one heck of a diving trip!
The four main islands of Raja Ampat are Batanta, Waigeo, Misool, and Salawati. Its surrounds include around 1,500 tiny islands and reefs.
Raja Ampat has the most corals, fishes, and mollusks of any place on the planet, making it the richest in marine variety. Some places are noteworthy for the quantity of fish species that can be seen on a single dive. Manta ray groups can be found in one place, while schools of parrotfish, barracudas, humpback groupers, and other fish can be found in others.
A liveaboard allows you to view more of this location than a single day diving tour would allow. Liveaboard excursions typically last between 8 and 14 nights. The southeast monsoon season (June – October) causes wind, waves, and poor visibility in the south of Raja Ampat. On the other hand, diving in the Dampier Strait and the northern half of Raja Ampat is possible all year.
3. What to Bring on a Liveaboard
It can be difficult to know what to bring on a scuba liveaboard. You want to be prepared, but you don't want to overpack when you'll be living in cramped quarters. There are some absolute musts that you should not forget, and others that you should simply leave on land.
We've taken the guesswork out of packing by compiling a comprehensive liveaboard packing list to ensure you don't forget anything important on shore. Oh, and it's completely free!
La Galigo Liveaboards: Best Liveaboard Trips in Indonesia
La Galigo is known as one of the best liveaboard diving in Raja Ampat & Komodo Indonesia, and it offers trips to well-known diving destinations such as Komodo and Raja Ampat. The Coral Triangle is located in Indonesia, which has the highest marine biodiversity on the planet.
La Galigo Liveaboard Diving was founded in the early 2000s by two avid divers who wanted to explore some of Indonesia's pristine reefs but found that all existing scuba diving options were frequently out of their budget.
La Galigo Liveaboard Diving in Raja Ampat & Komodo is a friends and family affair, and our liveaboard diving in Raja Ampat & Komodo trip offers are always focused on fun and guest comfortability, and are exceptional value for money. Our trip prices range from $2,160 for a six-day Komodo liveaboard diving trip to $3,375 for an eight-day Raja Ampat liveaboard diving trip. The price includes food and drinks (non-alcoholic drinking water), diving three to four times a day or snorkeling, and a land tour.
In 2012, traditional Southern Sulawesi craftsmen built the La Galigo boat in Bira. She is a traditional two-masted sailboat known as a 'Phinisi' by local tribes of Bugis descent. The Bugis are thought to have been inspired by old Dutch Clipper sailing vessels that may have been abandoned during the days of Dutch exploration, and have been producing these types of boats for hundreds of years due to an abundance of tropical hardwoods in their land.
The hull of the La Galigo boat is made of a material known locally as 'Kayu Besi,' which translates as "Iron Wood."
With a combined weight of over 169 gross tons, all interiors and the remainder of the vessel have been thoughtfully finished in tropical teak.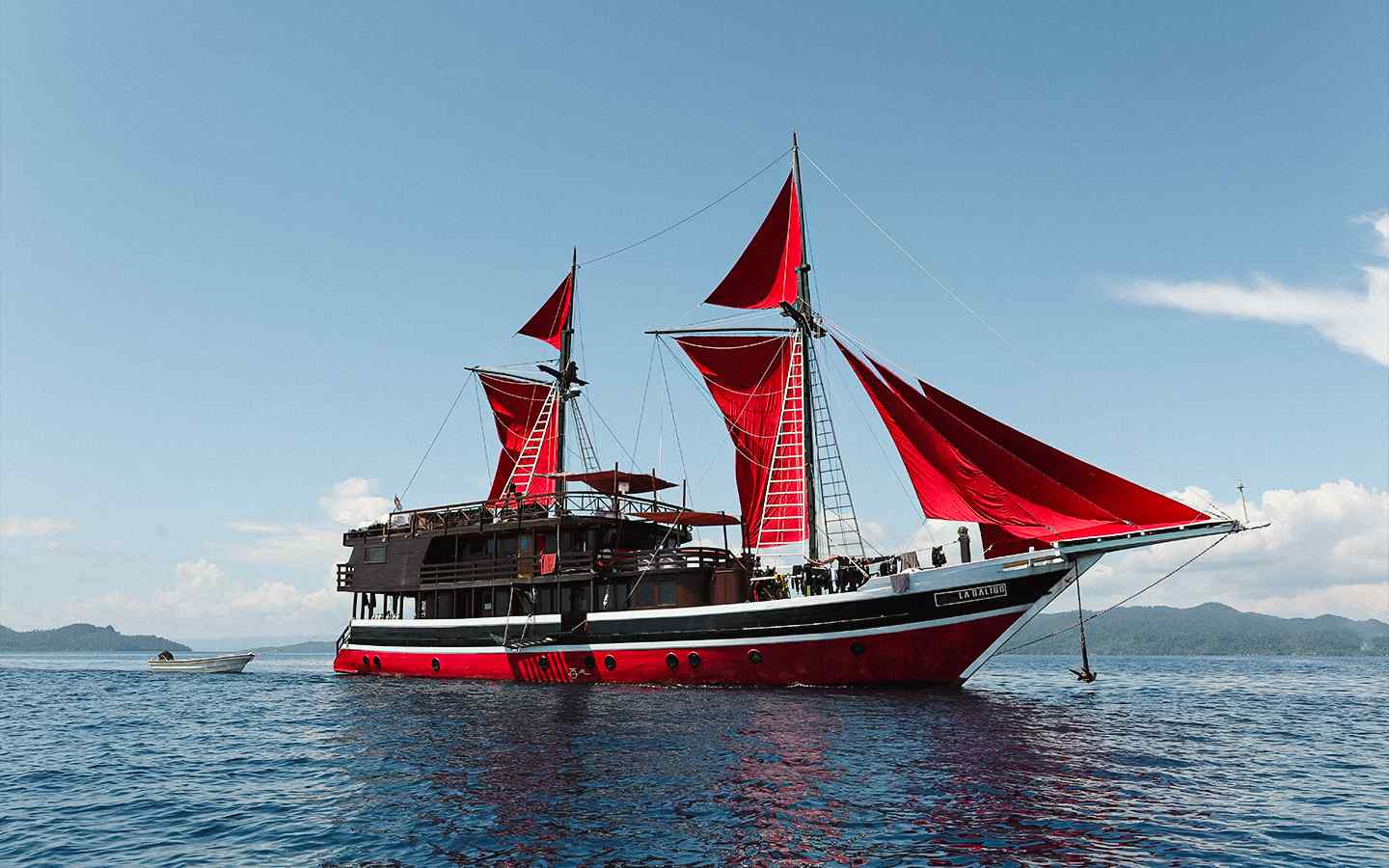 The La Galigo boat was designed and managed by an avid liveaboard diver with comfort and practicality in mind, and it still has features like a dedicated dive platform at the back of the vessel.
Motor and generator noise has been reduced by isolating the engine room from the cabins with thick soundproofing, which, while not silent, provides a better night's sleep.
All cabins have en-suite bathrooms and are filled with natural light and spectacular views of the passing seas and islands.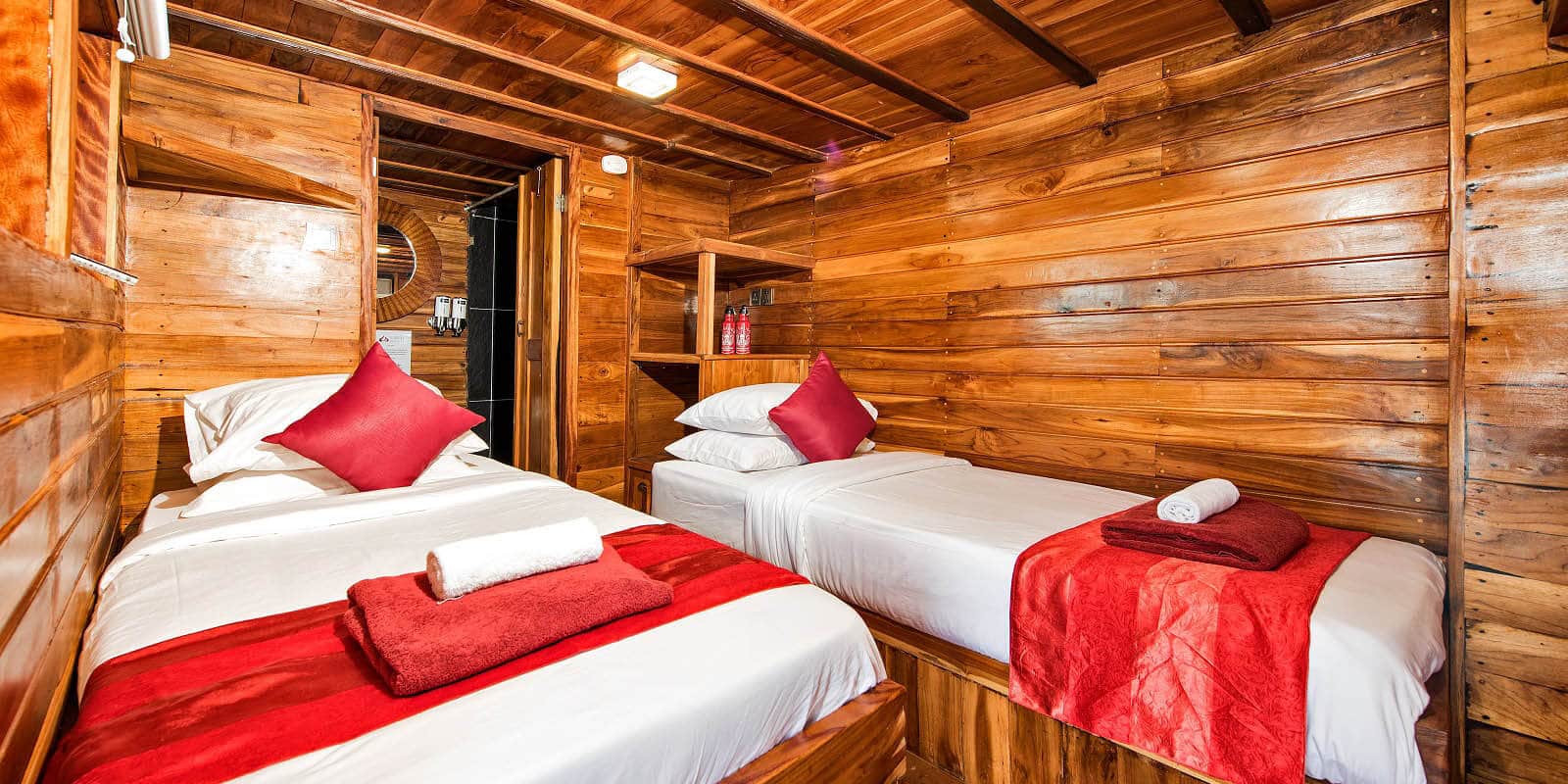 Where do you want to go liveaboard diving? Check our trip schedules below ▾