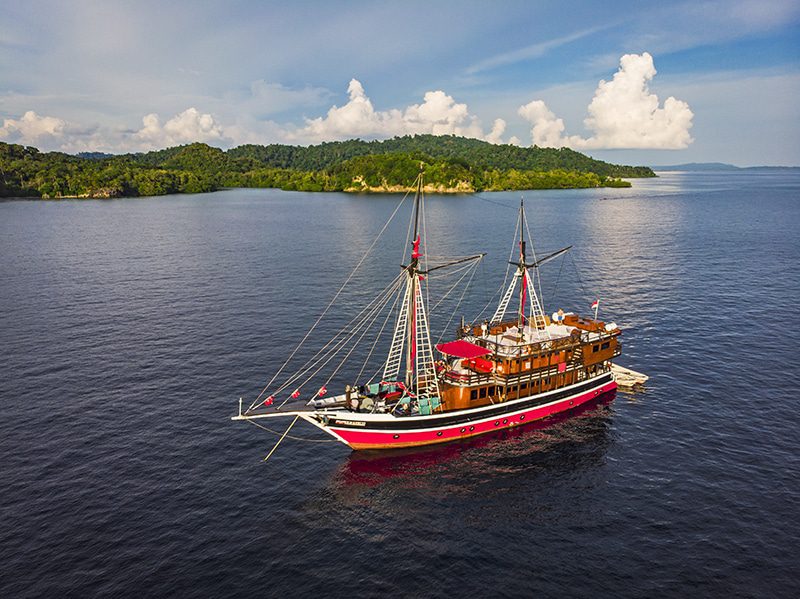 Ultimate Raja Ampat – The Last Paradise (Part 1 of 3)
Being an underwater photographer for the last nine years or so, I am always on the lookout for that next "ultimate" photography destination. A place where photography just comes easy and the memory cards fill quickly. A place with so many photography opportunities, you're constantly deciding which shot to process next.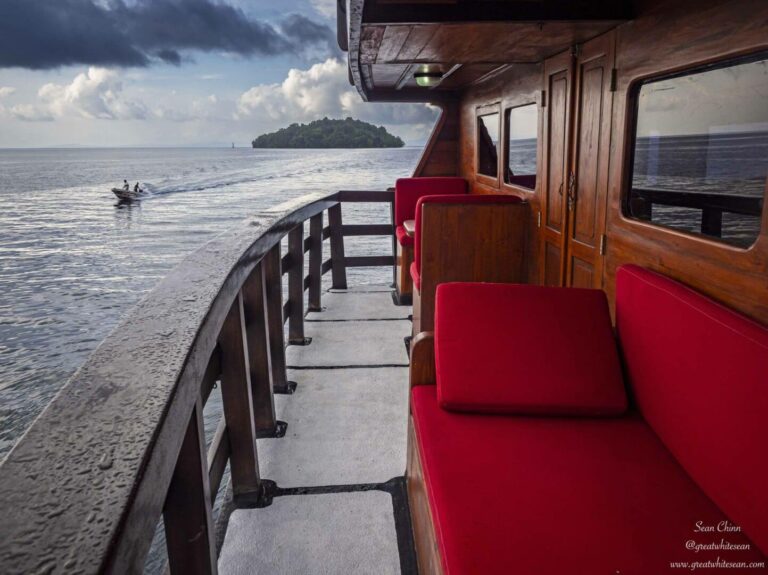 All the best places are remote and that was certainly the case with Raja Ampat. Located in West Papua, Indonesia, it took three flights for me to get there from the UK. A connecting flight to Jakarta from Heathrow via Doha, followed by a domestic flight from Jakarta to Sorong. Once in Sorong, the crew from La Galigo take over and really look after you, making sure the rest of your journey is as smooth as possible.
La Galigo pride themselves on their Indonesian crew, who have collectively spent many years sailing and diving Indonesia. It is a purpose built 'Phinisi' style sailboat and dive liveaboard. It really was a pleasure to see when I first laid eyes on it from the speedboat transfer. It was like something out of 'Pirates of the Caribbean'. Completely unique from other liveaboards I was used to and I was lucky enough to be the first guest onboard too. Benefitting from a tour of the boat, the Suite on the upper deck really stood out and is a special room boasting its own private balcony. The deluxe cabins I was in were spacious and comfortable. I then got a taste of how good the food was going to be, a beef rendang bursting with flavour was a great start.
La Galigo is predominantly a dive liveaboard but they are happy to tailor bespoke charters on request. The boat hosts a maximum of 16 guests comfortably over seven cabins, split over two decks, although 14 guests would be usual for a full charter, whilst being spacious and comfortable. There were 11 guests onboard for my trip, which gave me a pretty good gauge of life on a full charter. All cabins are equipped with air-conditioning and an ensuite with fresh hot water showers. Yes!! They were hot throughout the whole trip, which is always a special feeling after a long four dive day. Although, it was the mattress and pillows that were the winners for me. Super comfortable, it almost made it difficult to get up for the morning dive. I was never going to miss a dive in Raja Ampat though was I?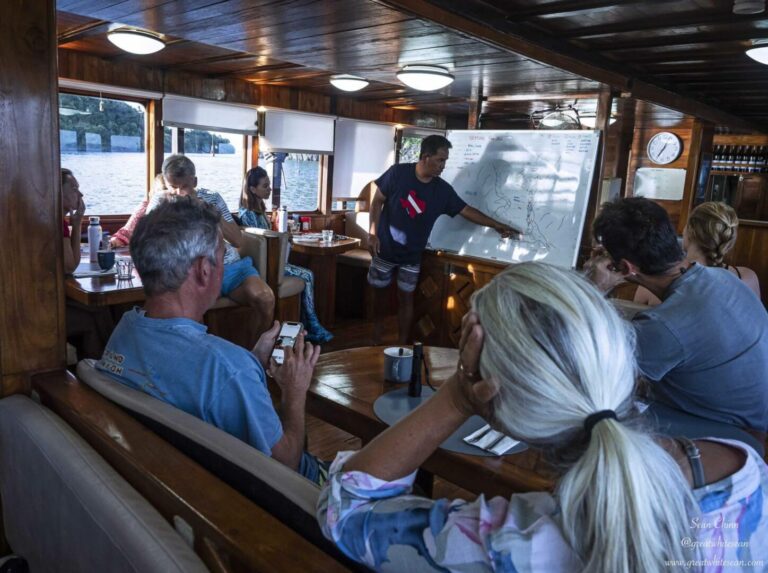 After an initial and thorough boat and dive briefing from cruise director Fareez, it was time to gear up for what we were all here for – the diving. The group was split into three dive groups with three guides, meaning only a maximum of four divers to each guide. A nice ratio, allowing the speedboat and dives to be less crowded and more comfortable. The main boat would be moored very close to each dive site, allowing the first two groups to go out with the speedboats and be dropped in, then one speedboat would return for dive group three.
It all ran so smooth and what was impressive were the dive briefings before each dive. Between Fareez, Aghi and Fendy, they would take it in turns to draw each site on the whiteboard (quite the artists) and explain in detail the plan. Aghi was my guide for the trip and did an amazing job in leading us, looking after us and finding all the amazing little critters we saw along the way.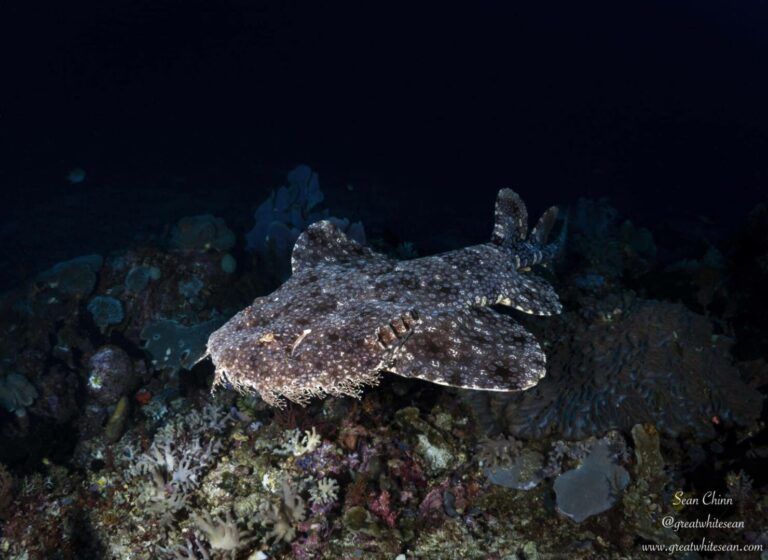 I must admit, the first dive really wasn't what I was expecting from a check dive in Raja Ampat; a strong current making it a fairly quick drift dive in some questionable visibility. Luckily I had my macro lens on as the vis wasn't great for wide angle. I soon got to realise the diversity to expect from the trip ahead though. With numerous critters found along the way, I knew things were only going to get better. The night dive showed that and followed suit, as critter after critter was found from a tiny 'Shaun the sheep' nudibranch to my very first wobbegong shark. What an incredible animal they are, lying still in the sand undeterred by our presence; it just looked at us, as we marvelled at its design. I came to Raja Ampat expecting to see a wobbegong but not so soon and so easily. A great start but hopefully I would get to see one later with my wide-angle lens on.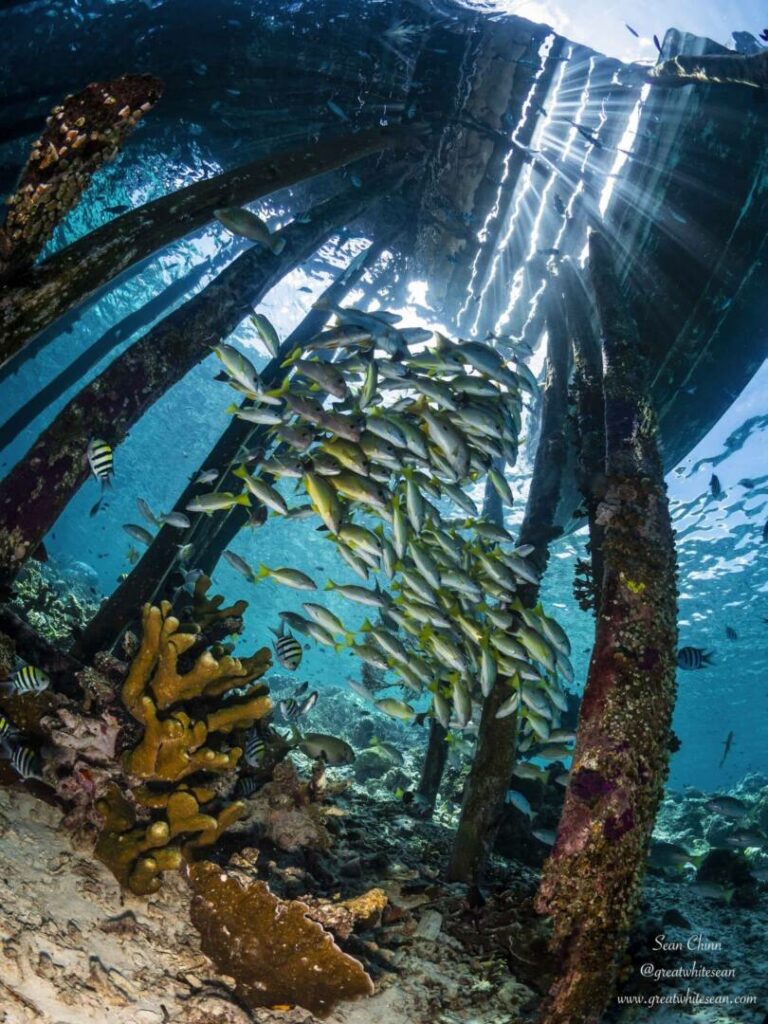 It didn't take long to realise wobbegongs are a staple of diving in Raja Ampat, but this didn't make it any less incredible each time we saw them. The very first dive the next day at 'Blue Magic' in the Dampier Strait, I hit the wobbegong jackpot for the trip. Not only did I see them resting, I also got to photograph two swimming and was even nearly slapped in the face by one with its pectoral fin. It did a 90-degree turn, swimming between me and dive guide Aghi.
As the rest of the day panned out, I quickly realised life in Raja Ampat was going to be very "fishy." Dive sites littered with numerous species of fish and big schools swimming in unison were amazing to see, before the night dive at Batu Lima provided another shark species for me to tick off. One of the most unique as well, as the Raja Ampat walking shark strolled into view in the most interesting way I'd ever seen a shark move. A species of epaulette shark, it is endemic to Raja Ampat, which makes seeing one that bit more special.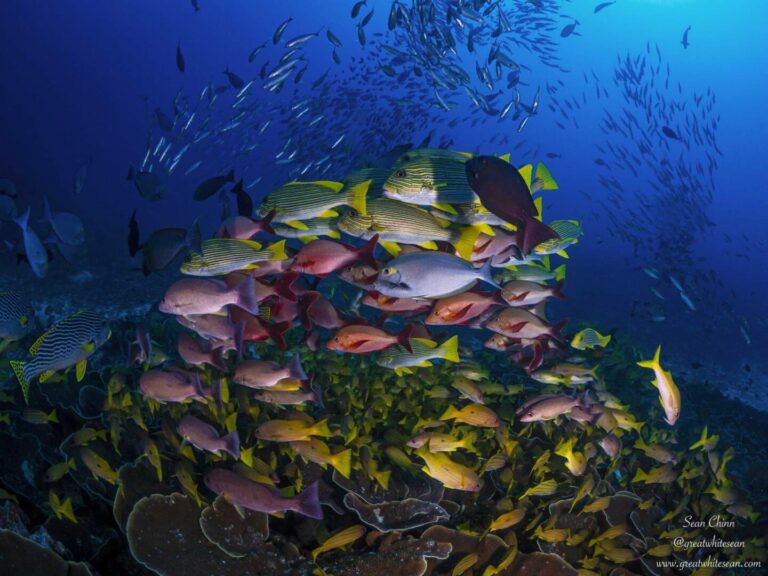 The next day reiterated my initial feelings of fish life in Raja Ampat and to be honest, I never quite imagined it would be this abundant. We started with an adrenalin fuelled dive at Cape Kri. A dive full of life as numerous schools of fish were seen, with barracuda and bumphead parrotfish being the standout. It was also a dive for some relatively big grey reef sharks to make an appearance as they patrolled the reef. Although, it was the ripping current that made the dive unforgettable and a real adventure, before our next dive, that was in complete contrast.
A relaxed dive under Yenbuba jetty made for some interesting compositions and was the perfect divider for the morning and afternoon dives. Diving at Sawandarek on the third dive was one of the best dives I've ever done. I've never experienced fish life like it and the numerous BIG green sea turtles just added to the spectacle. Swimming amongst the sweetlips, snapper and other schooling fish on top of the coral stage at around 20 metres was a memory that will last with me forever. All this before shallowing up to the jetty amongst schooling jackfish, damselfish and an array of other stars of the show. I just didn't want the dive to end. Thankfully I got to dive the site again but this time at night and it delivered in a different way. Numerous nudibranch, an octopus, cuttlefish, decorator crabs and more. A critter-filled dive to highlight Sawandarek as one of the best dive sites ever.
A great start to life in Raja Ampat but there's plenty more adventure to come. Please stay tuned for parts 2 and 3. 
For more information about diving in Raja Ampat:
Whatsapp: +62 812 2000 2025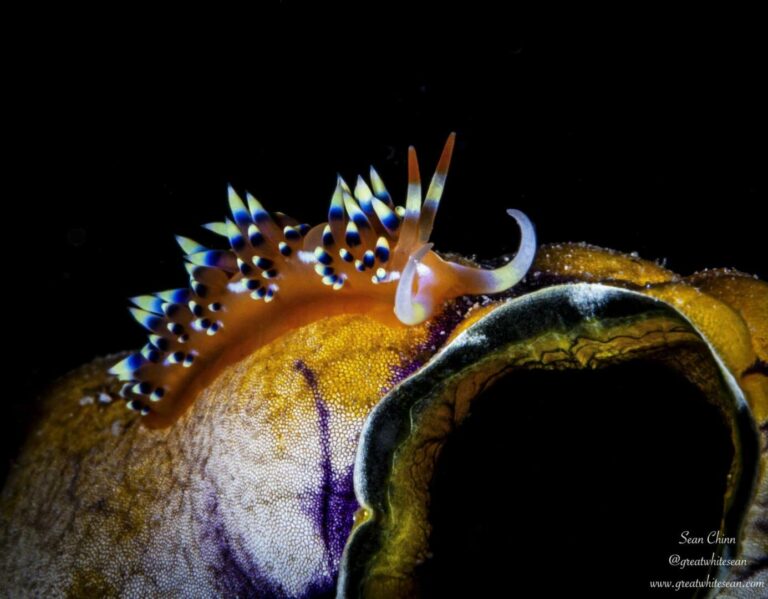 The article was written by @GreatWhiteSean as featured in  

Check out the original article here 
Where do you want to go for liveaboard diving? Check our trip schedules below ▾