Alastair H
🇨🇦 Canada
Excellent
Misool diving; great guides; friendly crew
Recommended for:
The diving; the dive guides and the crew
Diane W
🇺🇸 United States
Ultimate Dive Experience
Hanging in current at the Cauldron watching a free diver swim among Mantas, pygmy seahorses and the friendship that developed between a group of strangers.
Recommended for:
The crew, the accommodations, the entire group of 14 divers
Sylvie B
🇨🇦 Canada
A first liveaboard experience that will be hard to out-do.
The overall experience delighted me. When I thought "that last dive was the best dive", it was out done on the next dive. The hard working crew went out of their way to insure everything was perfect. If there was a small glitch (because nothing in life is perfect), they would see to it immediately. The ship is beautiful and easily felt at home for 8 days.
Recommended for:
The crew, the biodiversity and the other passengers!
Katie R
🇺🇸 United States
Amazing!
We had the best time on the La Galigo back in September 2018! We took the Komodo trip and the entire crew made the experience beyond incredible! The rooms are large, the food was excellent and the diving was superb. We absolutely want to join a trip in Raja Ampat in the future aboard the La Galigo!
Recommended for:
Crew, food and diving
Youngran S
🇺🇸 United States
Great
Diving sites – Manta point, soft coral field
Recommended for:
Crew, Diving sites, Master cabin
Alwyn D
🇦🇪 United Arab Emirates
Excellent diving crossed with a pleasure cruise, outstanding.
Feels like home
Recommended for:
People Diving People
Gary M
🇮🇪 Ireland
Amazing
Visiting the Komodo Dragons, BBQ at the end of the week, diving with Manta Rays
Recommended for:
Fantastic dive sites, warm and welcoming crew, the other passengers
Payam M
🇦🇺 Australia
Exceptional
Great diving Good dive masters Great food A magnificent boat
Recommended for:
The staff , high quality diving , exceptional meals
Kyonghwa J
🇰🇷 South Korea
Wonderful diving tour
Beautiful Reefs and Corrals, Manta rays, and Schooling of devil rays (Mobula)
Recommended for:
Good service, great meals, and wonderful diving points
Markus B
🇩🇪 Germany
Don't Miss it!
Dive sites: Manta Point Boat: being more a part of the team than just a guest Side activities: Beaches and sunsets with bats
Yuen Fai Dick W
🇬🇧 United Kingdom
A rewarding dive trip
Wobbegong in the cave, on the rock, on the move; huge mantas; school of barracudas real close; beautiful colorful corals in so many dive sites.
Recommended for:
Excellent dive guide Alex, unusually good weather, richest corals and sea lives
Terence K
🇬🇧 United Kingdom
The Best Crew Ever
Diving with mantas Beautiful corals Night dives Hot drink and snack after diving Carefree diving – you don't need to touch your equipment (unless you want to) Spectacular shore trips
Recommended for:
Diving with mantas, guides and crew, food.
Seulky K
🇰🇷 South Korea
It was just perfect!
Komodo dragons!!
Recommended for:
assistance before and after the dive, food.
Mariuccia D
🇮🇹 Italy
Awesome Dives in a comfort boat and assistance!
The dives in Manta Halley, drift dives.
Recommended for:
food, crews, mantas.
Annette D
🇫🇷 France
Amazing!
Beautiful liveaboard, so friendly crew, really good dive spots! Komodo islands are so gorgeous !!! I am in a hurry to go onboard very soon !!!
Michelle B
🇳🇿 New Zealand
A dream holiday
The diving was amazing, so much life on some of those reefs and great to see healthy coral. We loved the whole liveaboard experience and we were so well looked after. The food was just amazing and yummy.
Recommended for:
We got so well looked after both diving and just being onboard. The food was delicious and there was so much variety. Enjoyed the beautiful sunset walks and loved seeing the bats.
Devan L
🇺🇸 United States
Best diving I have ever done
Highlights of my trip included… Getting to dive in currents that I have not experienced until Komodo. Aquatic life including sharks, mantas, turtles with great macro diving at night. Well balanced as we dove frequently but also got to trek through Rinca National Park, climb a small mountain in Pulau Komodo, and see the flying foxes at Pulau Kalong. DL
Recommended for:
The accessibility of the dive sites from the boat. The location. Variability (see sharks, mantas, and great macro life).
Kamil F
🇫🇷 France
Great diving trip with great crew
The boat and the crew are really great. Big sundeck and people giving lot of attention to details.The diving was really good as well and well organised. Had a really good time and will come back for Rajah this time.
Recommended for:
crew, boat, food
David D
🇺🇸 United States
Our experience on the La Galigo was most excellent!
The highlights of this trip surrounded the attention to the dive site itinerary. The trip planners and the dive guides balanced the weather with the dive sites to assure optimal exposure to the best possible dive sites. The entire crew could not have been more friendly, and their attention to detail and commitment to ensure an enjoyable trip was quite evident. Chief Gibo was most pleasant and attentive to the dietary needs of the passengers and prepared some excellent dishes every meal…the barbecue on the last evening was top notch! Dive guides Fendy and Dody were both excellent guides and made every dive insightful and enjoyable as well as safe. My wife and I had a spectacular trip and give the La Galigo and her crew our highest recommendation!
Recommended for:
The three best things about this liveaboard were: 1) the dive itinerary; 2) the dive guides; and 3) the chief and his food!
Andrew M
🇬🇧 United Kingdom
An exceptionally delightful diving holiday

Seeing schooling barracuda and marbled moray eels swimming out of their holes aboard a wreck. The chef made a big effort to cater to our needs. More veg, less meat would be my suggestion. There's no point cooking steak in Thailand. Stick to the local fare!
Recommended for:
We loved the ambiance of the boat; the owner was on board with his cat; safety was always considered
Geoffrey B
🇦🇺 Australia
A most enjoyable, diverse Liveaboard dive adventure
The beautiful dive sites
Recommended for:
1. The diving diversity and choice of dive sites. 2. The friendly, entertaining crew and fellow guests, 3. The delicious and ample meals and snacks
Jin Woo L
🇰🇷 South Korea
FANTABULOUS
I just loved this entire trip for Komodo with La Galigo with Tom and crews of La Galigo and amazing divings!
Nanae G
🇨🇭 Switzerland
An absolutely amazing dive trip on a beautifully reconstructed classical Indonesian boat
All of the dive sites in Komodo NP were amazing but specially one dive site called "Shot Gun" was the best and so much fun—-this is a narrow passage between 2 islands. We wait for the tides to change and dive in with a reef hook ready, then wait in the middle of the channel to see all sorts of creatures flying by. A huge Manta flew by just 1m from me was an unforgettable experience! The sights of Komodo dragons on the island of Rinca on the last day of our trip was another highlight for me. The crew was so polite and well trained who pampered us from the beginning to the end of our trip. The equipment I hired was a top quality and the food was awesome!
Recommended for:
the crew, the dive sites, the food
Other Reviews from Social Media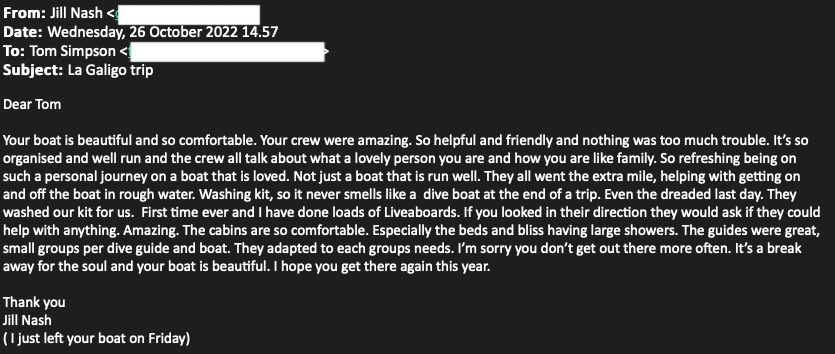 Other Reviews from Social Media