Ultimate Raja Ampat – The Last Paradise (Part 2 of 3)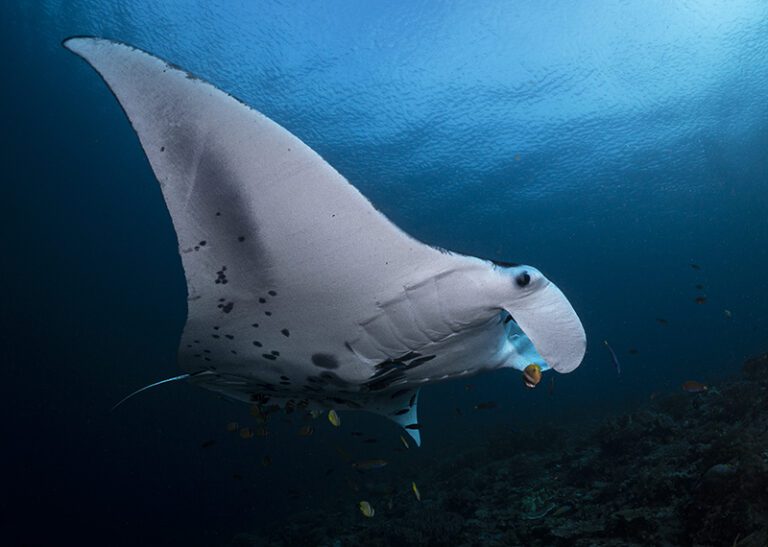 I'm hoping by now that you would have read the first part of my Ultimate Raja Ampat story with La Galigo Liveaboard. If not, then please check out Part 1 HERE. We really started with a bang and visited some incredible dive sites in the first few days. The amount of fish life seen on the dives was incredible and I could only hope the rest of the trip would continue to deliver.
I didn't have to wait long before another unforgettable dive for the very first the next day. We were aiming for 'Manta Ridge' and as the name suggests, we were looking for the majestic manta rays. The anticipation was bursting as I love spending time with manta rays and the guides had already alluded to the fact they saw them on the current check. The current was strong and reef hooks were advised once we got to the ridge.
My group was the last in and as we worked our way along the ridge towards the cleaning station, it wasn't long before a manta came into view. I managed to find a great spot to hook into and enjoyed the most amazing show. Stunning reef manta rays glided over my head within touching distance before hovering over the reef as they were cleaned thoroughly by black lip butterflyfish and other small fishes. This was how we spent most the dive at around only 10 metres before moving back along the ridge and shallowing up on top of the reef to hook in for our safety stop. HOWEVER, the best was yet to come for me personally, as I was reluctant to leave and dawdled behind the group, continually checking over my shoulder, until there it was…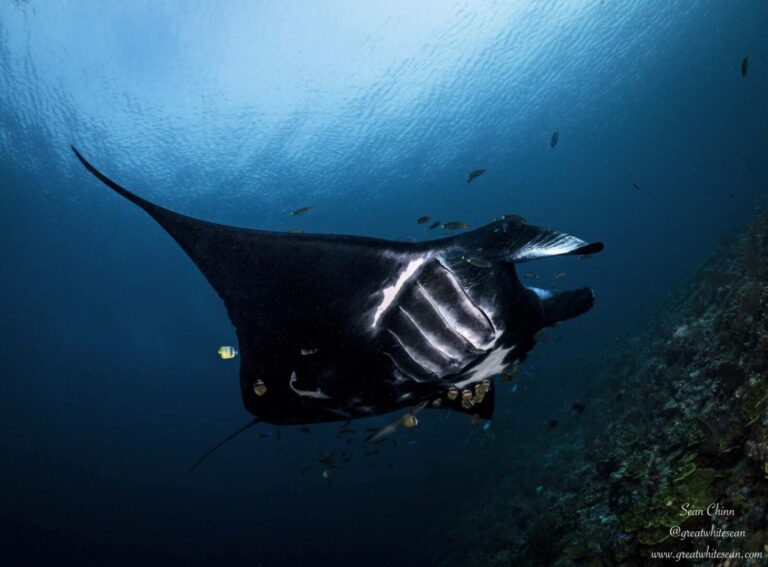 This was what I was hoping to see on my trip to Raja and to be close enough to get a photo I was truly happy with. I'd seen black manta rays before, but never close enough for a decent photo, now suddenly the opportunity presented itself. I saw my group just metres away hook onto the reef at 5-6 metres and I felt protected from the worst of the current, as this majestic manta suddenly glided within just a couple of metres of me. I couldn't believe the interaction I was getting and it felt like I was completely alone with it for this short moment. It glided along the reef while getting cleaned before circling a couple of times within touching distance. I just kept shooting and hoping the photos were coming out ok, while my adrenalin was pumping through my body for one of the best manta ray encounters I've had. Thankfully I was more than happy with the images I got and the memories were even greater.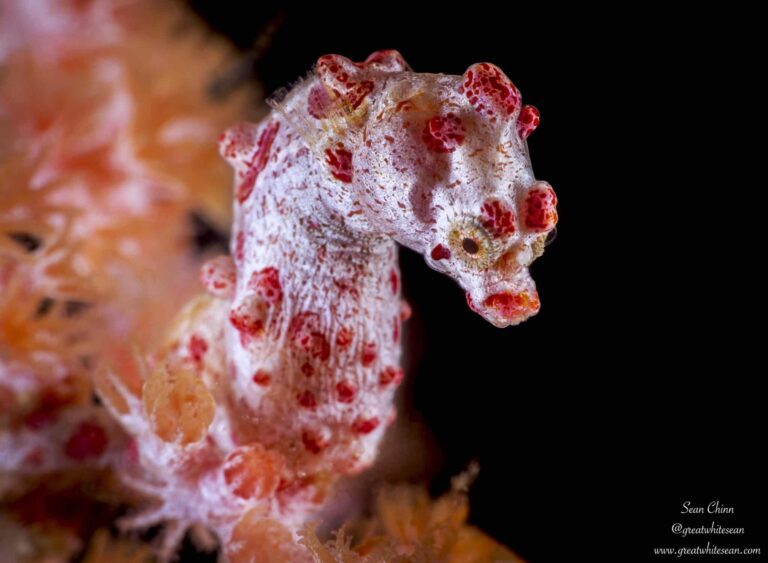 It was only day four and I had already ticked off some real Raja Ampat bucket list moments. The pressure was certainly off but the day continued in style and showed the diversity of life here. After a second dive at Mayhem with numerous resting wobbegongs and an overly friendly hawksbill turtle, it was time to mix it up on the third dive and go small, really small. Raja Ampat is famous for pygmy seahorses, as it's an incredible place for numerous healthy sea fans. I'd been advised you have the chance to see them on pretty much every dive, making it so hard to choose between macro and wide angle with the incredible choice here. For dive three though, I was advised Hippocampus bargibanti had been seen on the previous trip and I opted for macro. It didn't disappoint and I was so happy to see the super cute bargibanti seahorses once again and have the chance to photograph them. Followed by one of my favourite critters no matter how many times I see them – the peacock mantis shrimp. I love it when a plan comes together!!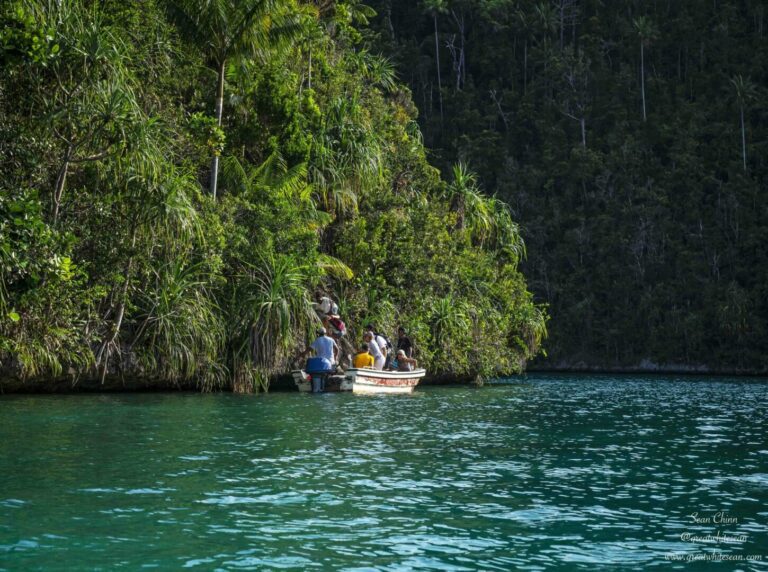 It was now time to head to the most northern part of the itinerary – Wayag. Famous for its stunning landscape and lagoon, I was really looking forward to mixing it up and taking a break from diving. Our first adventure of the day would be a trek up Wayag Lagoon instead of diving, although I couldn't resist a quick swim with the blacktip reef sharks that were circling the boat before the trek.
The trek in itself was an interesting adventure. I wasn't expecting it to be difficult and presumed it was stairs but I soon realised it wouldn't be that easy. It made it much more fun though, as we navigated the footholds and scrambled up the formations in the limestone. The limestone can get quite sharp and you really have to have your concentration in check on this climb, but it is more than manageable for any fitness level if you take your time. It is only a short 20-minute hike but took longer due to being mesmerised by the incredible views with each step higher. One of the most stunning views I've been lucky enough to lay my eyes on. The different shades of blue of the glass like sea broken up by lush green rainforest covering the limestone islands. It's so cliché to say "the view took my breath away" but there's no other way to describe the scene.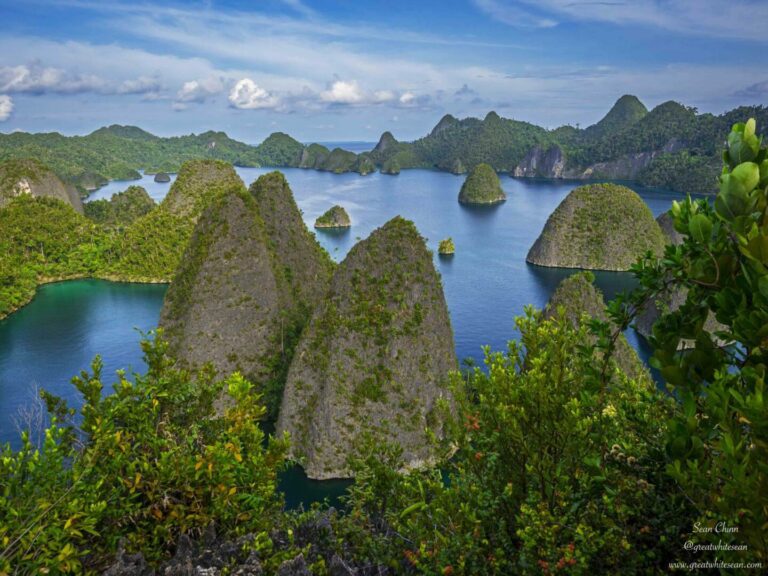 Diving around Wayag was all about macro critters for me. Two more day dives followed where again nudibranch of all shapes, size and colour made appearances. Our guide Aghi was brilliant at finding the really small flabellina variety. Squat lobsters, crabs and shrimps were the crustaceans keeping me entertained before one of the best night dives ever. Terserah Point is a sloping white sand dive looking for the weird and wonderful. Bobtail squid were seen in great numbers and were another first for me, with a long arm octopus, cuttlefish and decorator crab also putting on a show before the grand finale. The charismatic coconut octopus dazzling with its colours and tentacle show, while trying its best to hide between two shells. Again, another first for me, which was becoming quite the norm on this trip. Even having a close call with a box jellyfish right at the end of the dive, it got the adrenalin going but again another cool critter to see and my first.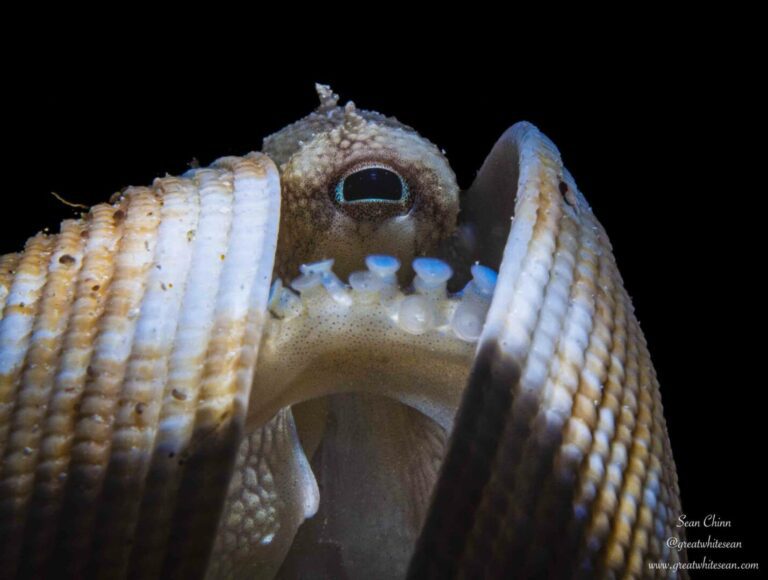 The next couple of days we started to head south again, as we were aiming for the area around Misool Island and the marine reserve. We stopped at Kawe, Aljuy and Penemu along the way and the dives were all about the stunning coral that Raja Ampat is famous for. While also trying to see manta rays again at Eagle Rock 1. Unfortunately, the dive didn't deliver mantas, although it was a stunning site with hawksbill turtle, wobbegong and the only banded sea krait I saw on a dive on the trip. However, we just happened to be diving the wrong island at Eagle Rock and when we surfaced, we saw mantas from the boat and took the opportunity to swim with them as six swam past at the surface. One bigger manta continued to circle a coral pinnacle beneath us – enough for another manta fix!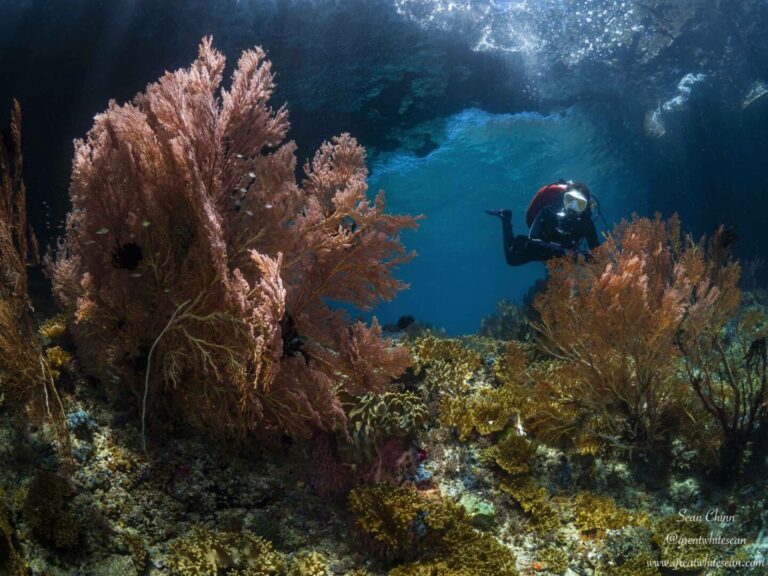 The swim throughs at Wofoh South and Batu Rufus provided stunning photography opportunities with amazing topography. The dancing anchovy school mesmerised, and the coral formations were breathtaking on all dives, none more so than the beautiful Melissa's Garden. This was a relaxing dive on top of some of the best hard coral gardens I've seen. Anthias danced in and out with Napoleon wrasse a constant sight throughout. It was also another amazing dive for nudibranch, quite the popular macro subject in Raja Ampat. Pianemo trek on the morning of day seven was again a welcome break from diving and something different to enjoy and see the amazing scenery from a vantage point. A much easier trek, as a well-maintained staircase leads you up to the viewpoint over the lagoon. Breathtaking views were waiting, while meeting local villagers and buying fresh coconuts provided welcome company from our liveaboard bubble.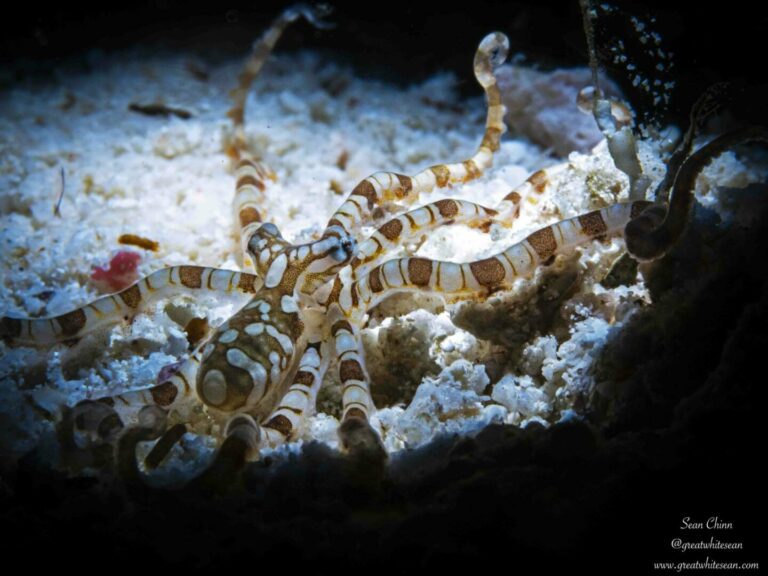 While all these sites were truly special, it was again the night dive that stole the show for me. Another sloping white sand dive but this time at Wofoh North. Again, it was all about the weird and wonderful, as the guides alluded to it being a great place for wunderpus octopus. I was keeping my fingers crossed, as it was another new species for me to see and as it happened, I didn't have to wait long into the dive. There it was, sitting perfectly still in the sand, no bigger than the palm of my hand and guess who found it? Yes!! That's right! I was so excited to spot it in the sand myself, although it took me a second to make sure it definitely was an octopus. What an amazing dive this was for the whole 50 minutes. Another wunderpus was found, that was actually still in its larval stage; an amazing find. Spearing mantis shrimp, nudibranch, sea moths, bobtail squid, devil scorpionfish and more were just the tip of the iceberg on another amazing night dive.
This place just continued to deliver with its amazing biodiversity and it was now time to head south on a 16 hour crossing heading close to Misool Island. Stay tuned for our adventures on the final four days diving the south. 
For more information about diving in Raja Ampat:
Whatsapp: +62 812 2000 2025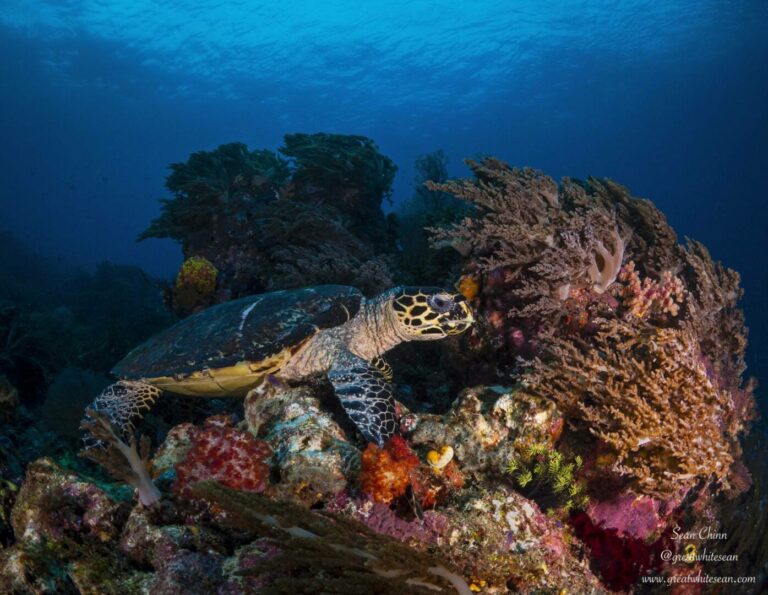 The article was written by @GreatWhiteSean as featured in  

Check out the original article here