9 Best Komodo Dive Sites to Visit in 2024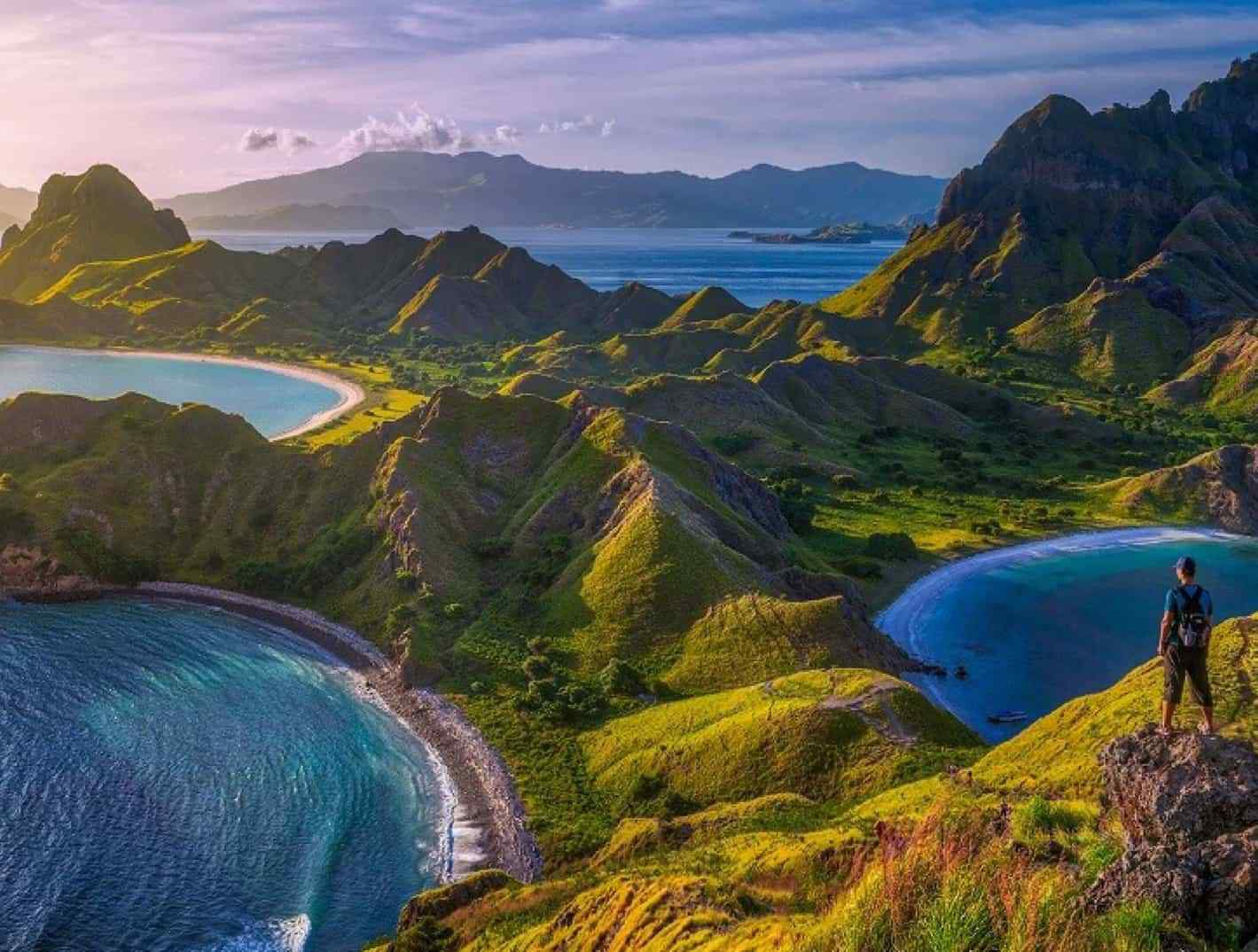 The Komodo National Park is located approximately 400 kilometers east of Bali, between the islands of Sumbawa and Flores. There are three major islands: Komodo, Rinca, and Padar, as well as numerous smaller islands. The Komodo Dragon is undoubtedly the most famous resident of the Komodo area, but for divers, it is more important to note that Komodo National Park is one of the world's most vibrant underwater environments. There are hundreds of coral species, as well as sponges and thousands of fish species, with the possibility of seeing anything from pygmy seahorses to manta rays. The best months to dive are from May to October. Water temperatures vary greatly. Temperatures in the south of Bali can range from 22 to 28 degrees Celsius. The water temperature in the northern area ranges between 25 and 29 degrees Celsius. Long wetsuits are advised. Below is the list of 9 best Komodo Dive Sites to Visit in 2024.
1. The island of Batu Bolong
Batu Bolong is the first Komodo Dive Sites to visit ini 2024. This tiny rock island, located in the strait between Tatawa and Komodo islands, is one of the most well-known dive sites in the Komodo National Park, and possibly the world. Divers will enter the water on the current-protected side and descend along the rocky slope covered in brightly colored corals.
Divers must maintain good buoyancy and dive control during a high-current dive.

One of the world's best dive sites

A rocky island teeming with marine life.
What you'll see:
Dive between clouds of small fish twirling above the soft and hard corals growing on the steep slope as you descend. The dive site is especially well-known for the abundance of marine life that can be seen on every dive. White tip reef sharks, green turtles, giant trevally, various sweetlips, Napoleon wrasse, and rays can all be found cruising around.
This small island has a lovely fringing reef that is home to many spectacular reef fish as well as frequent reef mantas that swim back and forth along the reef. The dive site has protected areas that are suitable for beginners; however, the tides cause strong currents around the full moon. Snorkelers can explore a large shallow section of the reef.
Strong currents may exist; stay close to the reef and your dive guide.

Manta ray cleaning station on the reef

This dive site is surrounded by vibrantly colored and healthy coral.
What you'll see:
White tip reef sharks, resting bamboo sharks under ledges, fantastically moving cuttlefish, and many hawksbill and green turtles can be seen while scuba diving on this reef. Keep an eye out for the area's famous three-legged hawksbill turtle!
3. Manta Point (Karang Makassar)
Manta Point (Karang Makassar) is a beach in Makassar, Indonesia. This long gentle drift dive, where up to 100 manta rays have been spotted at once, should be named Manta Point. Because this is a cleaning station, these gentle giants congregate here to have their parasites removed. At certain times of the year, you may also see manta rays mating or feeding on zooplankton.
Mantas visit here all year because it is a megafauna cleaning station.

The most manta rays are seen between December and February.

Divers of all skill levels will enjoy this gentle, easy drift dive.
What you'll see:
As you descend, you'll encounter a coral rubble substrate with live coral strewn about on the seafloor. Bamboo sharks, marble rays, eagle rays, unicorn fish, butterfly fish, octopus, bumphead parrot fish, and the majestic manta rays can all be found among the coral.
Because of the site's exposure, Batu Tiga is one of the most recently affected Komodo Dive Sites. These strong currents attract large fish and allow you to dive with schools numbering in the thousands. Your dive guide will usually direct you to enter from the northwestern side of the three rocks that rise above the center. The rocky reef then stretches out underwater towards the Komodo islands, with fantastic rocky boulders for many fish to hide in.
Strong currents are only for experienced divers.

The strong prevailing currents inhibit coral growth.

Many schools of big game fish, including giant trevally and barracuda.
What you'll see:
This current-filled dive site, with its many rocky outcrops and boulders, is a favorite of massive groupers, schools of barracuda, giant trevally, and other pelagic fish. If you keep your gaze fixed on the deep blue, you may spot passing rays or even sharks silhouetted in the water.
This dive site is located in a protected bay, so currents are minimal and divers of all skill levels can enjoy it. Because of the nature of this dive site, it serves as a nursery for a variety of species, and you can spend your dive surrounded by baby bumphead parrotfish, Napoleon wrasse, and even reef sharks.
Excellent sand diving with amazing macro life.

Dugongs visit this location, so keep an eye out for these marine mammals.

A safe dive site that is ideal for beginners or snorkelers.
What you'll see:
This dive site is ideal for macro photographers because you will see many frogfish, flamboyant cuttlefish, nudibranchs, pipefish, and the usual suspects in coral reefs. Sweet lips, starry pufferfish, boxfish, sea stars, octopus, and butterfly fish abound.
This dive site consists of an underwater structure that rises from the sea floor to a few metres below the surface. Because of the strong currents, only experienced divers should attempt the dive. The dive site's location ensures that visibility is always excellent.
Because of the frequent strong currents, this dive is only suitable for experienced divers.

The current divides around the sea mound, attracting a variety of large fish.

The dive includes a variety of fish as well as beautiful coral growths on the sea mound.
What you'll see:
You'll be surrounded by fusiliers, batfish, and other reef fish once you reach the sea mound. Schooling barracuda, jacks, mackerel, and large grey reef sharks can be found at depths ranging from 25 to 35 meters. After the deepest part of your dive, you'll return to the surface to see abundant coral growths and practice your spotting skills with well-camouflaged frogfish, vibrant tiny nudibranchs, and scuttling crab species.
This is another dive site with consistently clear water for divers to enjoy. The sea mound that makes up this dive site reaches the surface and is covered in a spectacular array of hard and soft coral on all sides. Because it is prone to strong currents, it is best suited for experienced divers.
A dive site with excellent visibility and a strong current

This sea mound has lovely hard and soft coral coverage.

Throughout your dive, you will be surrounded by massive schools of fish.
What you'll see:
The underwater structure of this dive site attracts large schools of fish, including sweet lips, tunas, mackerels, barracuda, and fusiliers. The shallower part of the dive, at 14m, is a good place to see reef sharks and gliding eagle rays.
Because of its distance from the main islands of Komodo, this dive site is usually only accessible by liveaboard. Pilaarsteen is a pinnacle dive site located on the east coast of a small island just east of Padar Besat. You will be greeted underwater by a spectacular wall, unique topography, caves, and swim throughs capable of encapsulating divers of all levels of experience.
There are numerous caves and swim-throughs available for curious divers.

There's a good chance you'll see sharks and turtles.

Is relatively protected from strong currents
What you'll see:
The unique topography has become home to many unique creatures, and you can train your eyes to spot scorpion fish, frogfish, and other masters of camouflage amongst the rocky coral. A wide range of soft, hard, and leather corals cover the rocky walls. Sharks, turtles, schools of fusiliers, rays, and pelagic fish can all be spotted.
The spectacular variety of corals and invertebrates that cover the wall has earned this dive site its name. It's a great place to go for a night dive to see the nocturnal creatures, but it's also a great place for snorkelers.
Exquisite collection of corals, sponges, and invertebrates

This dive is best done at night.

The current is typically gentle and suitable for divers of all skill levels.
What you'll see:
This dive site is ideal for slow diving so that you can fully appreciate the colorful crustaceans such as cleaner shrimp, reef crabs, decorator crabs, slipper lobster, and spiny lobster. There are poisonous sea urchins, Spanish dancers, nudibranchs, sea apples, sea stars, and other creatures that are difficult to identify.  Along with the unique zoo, you will see all of the typical animals such as cat sharks, cardinal fish, parrot fish, and many other reef fish.
Where do you want to go liveaboard diving? Check our trip schedules below ▾